Today our Swiss distributor took us to the Rheinfall, the largest natural waterfalls in Europe. I must say, they were pretty impressive. Here's a picture of me near them!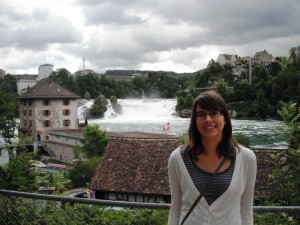 My boss and I then took a boat to a spot where you could hike up and get a panoramic view of the area. I must say, the Rheinfall were even more impressive from the top. There were a bunch of additional crevasses and smaller waterfalls before the water reached the larger ones.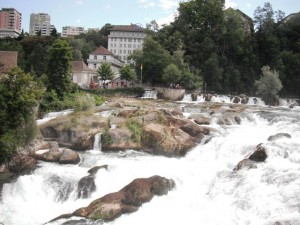 Then we had a very nice authentic lunch at a local restaurant and headed back to the hotel. We also took an afternoon walk through Old Town Winterthur. That was pretty cool, but since it was Sunday, most everything was closed.
One thing I noticed is that the cows seem to be much happier here. They all wear bells around their necks, they seem to almost prance as they walk, and their tails wag as their chewing on grass. It's incredibly cute.
Since we had a big lunch, we just grabbed some Subway sandwiches for dinner. I know, it's not authentic food, but most everything is closed today and honestly, I'm still recovering from lunch.
But I am still on a mission to find some fondue before we leave!